The image presented in this week's module shows what seems to be a figure cutting into a piece of meat (looks like Cow meat) on top of a cutting board, it's left foot is placed on the cutting board, and there is another knife stabbed into the meat. The figure can be assumed male because it lacks any features that may indicate it to be a female. This assumption could also be an inner sexist idea of who would be cutting into meat and who consumes meat. If it is a male figure cutting into the meat, the placement of his left foot, as well as the knife stabbed into the meat shows the dominance he believes he holds over the animal he has killed. The figure is also faceless and a neutral gray, possibly indicating that anyone could fulfill this role or take part in this action. Another factor in the image is size dimensions, the figure is small by comparison to the cut of animal meat, knives, and cutting board. This aspect could possibly be symbolic of the number of humans there are on the planet compared to the number of animals we kill, fewer humans compared to animals consumed. The last factor that I noticed in the image was that the figure is wearing what looks like a chefs hat, but also could be perceived as a sort of crown which adds to the tone of arrogance and self-righteous attitude displayed in the image.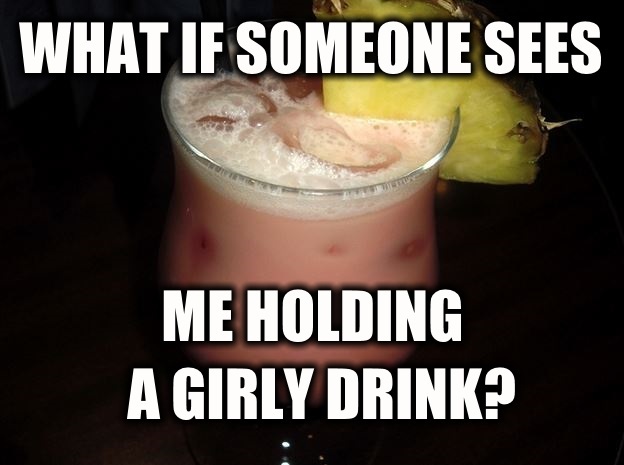 (A meme that shouldn't exist)
The understanding of this image definitely comes from my assumptions of the figure being male, and the loaded context surrounding the male display of dominance through the consumption of meat. As noted in the HuffingtonPost article meat and a man's self-perceived masculinity has long roots in society and social interactions. Most food is connected to some sort of gendering, the HuffingtonPost notes the meat vs salad debate, but I feel a bigger indicator of the insecurity surrounding masculinity can be in alcoholic beverages. Certain liquors are seen as masculine in western society, (beer, whiskey, cognac, red wines) while others are viewed as more feminine (fruity mixed drinks, frozen drinks, tequila, white wines). Even the glass the beverages are served in is seen as feminine or masculine, I've once seen a man ask the bartender to serve him a martini in a "manly" glass (i.e. a rocks glass / square glass cup), this is really just baseline pathetic. I've also noticed there to be a gendered difference surrounding what is perceived to be a more masculine appetizer (chicken wings) and what is seen as more feminine (flatbread or soup). In general, it is clear that what is perceived as masculine often contains more protein, while what is feminine typically contains less protein and possibly more carbs, if it is not the low-carb "healthy" choice.
It is clear that the relationship between human beings and other animals is not a pleasant, fair, or morally justifiable one. It is a relationship filled with the human's toxic domination and murder of animals for consumption and other unnecessary benefits. Both philosophers Gaard and Curtin point to the fact that animals are being abused and murdered for the benefit of human beings and that his murder and abuse resonates largely into all aspects of our interactions with living beings, non-human animals and otherwise. The devaluing of a living beings worth and importance to justify the oppression and abuse placed on it is something human beings have done and do in all different forms, even within their own species, and this is where the tangible concern comes about. Philosophers have likened our relationships, treatment of animals, and consumption of animal meat to classism, sexism, racism, and the overall structures of a patriarchal society. Gaard does not hold back in her article comparing the unequal power structure of pets and pet ownership to slavery stating "If the situation (being a pet) were offered to humans, we'd call it slavery" and noting that she believes it to be inhuman, unacceptable, and lacking empathy for the animal. Curtin also brings up some very relevant and important points in his essay explaining how the consumption of eggs and milk is an exploitation of "the reproductive capacities of the female." Curtin also states that men are "associated with red meat and activity ("To have muscle you need to eat muscle"), whereas women are associated with vegetables and passivity." This abuse is one that comes from the same central place, a lack of empathy for living beings and devaluing of their lives and purpose on this earth. To the extent that we have this problem is due to patriarchal ideals and the multilayered social contributors that aggregate our society and aid its oppression of those with less power. Until we deal with these central societal ails such as the consumption of other living beings as food, there is no way we will ever get to a place where all beings are treated and respected equally.